Originally they were in your eye - now they can be in your home! or on your front!
The original poster designs of John Foy now celebrated in a range of quality limited edition formats…
Welcome
SKULL PRINTWORKS originally existed as vehicle for the designs and screen printed posters by John Foy from 1978 to 1988. The earliest designs appeared under the initial name Fonebone Printworks before changing to the more familiar moniker. The final poster of the regular output was for The Riptides in 1988 - though Foy did break out the screen printing gear one final time in 1990 for a Red Eye Record Label end-of-year concert by the label's leading Artists.
A book containing a survey of the Skull Printworks output was issued in October 2018. 'SNAPS CRACK POP!' also documents the preceding years resulting in the establishment of Skull Printworks, as well as all that has followed. Skull Printworks is now back as an active entity, first to republish the 'SNAPS CRACK POP!' International edition, then to action some exciting new projects involving the popular designs executed by John Foy in his prime. Watch this website!
We are THE POSTER BOYS…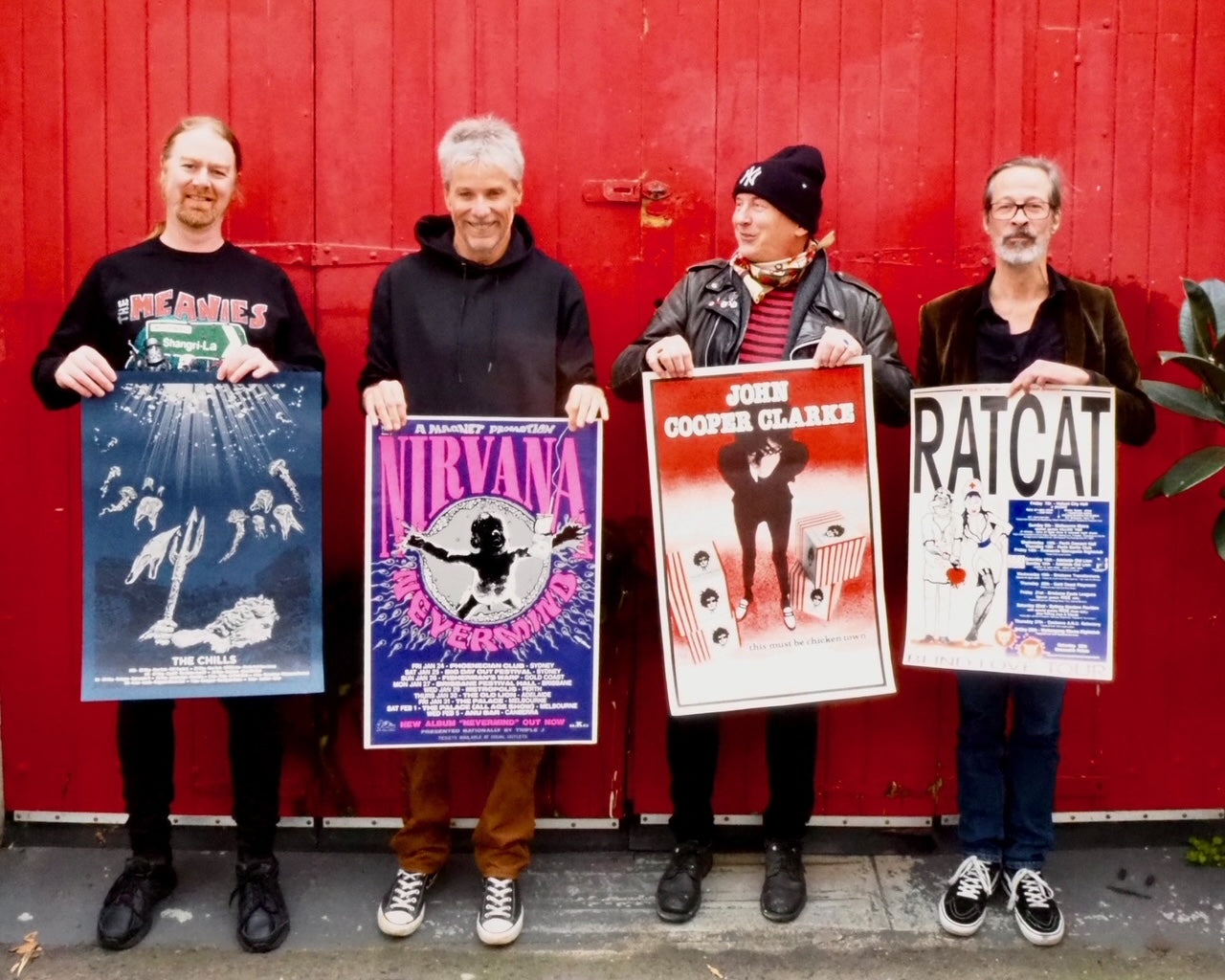 On July 1st:  Glenn ' Glenno' Smith, Ben Brown, John Foy, and Simon Day - are grouping together to push back against the growing pirate & counterfeit poster problem. On that Saturday you can bring your copies of their rock posters to be appraised by them as to whether they are real or fake. It's a free service.
For an optional fee, these designers will additionally sign and encode your poster confirming it's authenticity and value for now, and into the future.
John Foy pioneered this longterm American practice in Australia a year ago, travelling solo between Brisbane, Sydney and Melbourne. This year it is now the four of us, and next year we hope to further expand the idea to other period identities and genders.
As well as the authentication processes there will be all kinds of other genuine stuff and editions for sale.
It's a rare opportunity to meet and chat to some of your favourite rock poster Artists - and we would like to meet you too - and see what you have collected.
It all starts at 11.00 am on Saturday 1st of July, slap bang in the middle of Sydney - At: 11-13 Burnell Place, Darlinghurst - look for the big Red doors!
"From the start, John was all about creating things rather than making money."

"Now you can do all the editing in your computer. Whereas, in the case of these posters, it was all done in your head."

"Just looking at these posters takes me straight back to the nights of the actual shows..."